22.3.05 | Lost Loves
Her.
7:30 pm. Friday evening. Recently.
If you'd been lounging around the simply "delightful"
Burnley bus station
at that time, you might well have seen The Saturnyne lounging, too. It's what he does best.
Head bent. Hand resting philosophically on chin. One leg tucked under a chair, the other stretching langurously. Here is The Saturnyne deep in thought.
A shadow moves across the periphery of his vision, disturbing ever so slightly his mournful reverie. A casual glance up. An imperceptible start.
(The Saturnyne is on occasion, a master at hiding his feelings. When the occasion demands).
It's Her. She's looking a few years older. But surely it can only be Her. She still has that dancers grace. He looks cautiously. The sideways glance. Half trying to catch her eye, to perhaps gain some glimpse of recognition in her own eyes. She never meets his gaze. Perhaps never even looks in his direction. Perhaps it's not Her... for surely she would remember him. The Saturnyne is not an easy person to forget, once met. Neither does he forget those he's met also. It is both a curse and a blessing.
Or perhaps she recognizes him all too well and is ignoring him.
Either way, formalities and oaths must be kept. If conversation is to be made, it must come from her and not him. When someone has not wished to speak to you for years, their silence must be respected. It would not be... polite.
The bus arrives and the journey home is made. The Saturnyne sits in unbearable discomfort, almost within touching distance of a person he once loved enormously. No words are spoken. She gets off at the right stop. Yes, this must surely be Her.
The Saturnyne does not bow his head. He is still as stone. No emotion passes over his features.
No words are spoken. He thought he was over her. He was wrong. Even after all these years, the echoes reverberate down from the past and fall upon him like Greek Furies.
When he is quite alone, he sits on his bed awhile, eyes resting on a nothing of wall. And remembers all that was lost and can never be regained.
No words are spoken.

19 comments :.
19.3.05 | The First Day Of Spring
I always know when Winter turns the corner and heads into Spring. I wake up, throw back the curtains and the sky looks newly washed and so... so alive. Nature itself seems to raise its head and stretch out its green arms. Birds seem chirpier, insects buzzier, even the trees and grasses seem treeier (new word!) and grassier. And greener.
I always know the first day of Spring. And it knows me. This must be the fairest day of the year. Life calls me.
So today, i've been doing things. Taking new flower photos with my (non-digital) camera. Seeing old friends. Drinking coffee and chilling out in my Fave cafe, The Red Triangle. And now, i'm writing in a state of near-tranquility. Drinking a good red. Listening to Nico singing 'These Days' from her verr beautiful
'Chelsea Girl'
album. Thinking of a poem by e.e. cummings that perfectly sums up a new bright day. Why, i think i'll quote
both
the singer and the poet for you! Generosity prevails! (Somehow, they
both
match my mood today).
The Singer
I've been out walking
I don't do too much talking
These days, these days.
These days I seem to think a lot
About the things that I forgot to do
And all the times I had the chance to.

I've stopped my rambling,
I don't do too much gambling
These days, these days.
These days I seem to think about
How all the changes came about my ways
And I wonder if I'll see another highway.

I had a lover,
I don't think I'll risk another
These days, these days.
And if I seem to be afraid
To live the life that I have made in song
It's just that I've been losing so long.
La la la la la, la la.

I've stopped my dreaming,
I won't do too much scheming
These days, these days.
These days I sit on corner stones
And count the time in quarter tones to ten.
Please don't confront me with my failures,
I had not forgotten them.


The Poet

i thank You God for most this amazing
day:for the leaping greenly spirits of trees
and a blue true dream of sky;and for everything
which is natural which is infinite which is yes

(i who have died am alive again today,
and this is the sun's birthday;this is the birth
day of life and of love and wings:and of the gay
great happening illimitably earth)

how should tasting touching hearing seeing
breathing any--lifted from the no
of all nothing--human merely being
doubt unimaginable You?

(now the ears of my ears awake and
now the eyes of my eyes are opened)



And that's all.

love love love,
S.x

9 comments :.
| "MirrorMask" Post (Otherwise Known As "I Heart Neil and Dave!"
Check this pic out:
Doesn't mean much beyond looking a bit cool and interesting, does it?
Except!
This is one of the first promotion pics for possibly the coolest and most original looking movie in a very long time.
Oops, wait a mo. I meant: In a very long time!!!! (Gotta have my !!!'s)
but what's of especial significance to an avid Sandman fan like me, is the scrumptious thought that it's been written by
Neil Gaiman
, and directed by his uber-genius long-term accomplice in crime, the all round artist
extra
ordinaire,
Dave
McKean
and like, made/produced/whatevered, by Jim Hensons Company (And who could forget
their
previous two cult movie fantasies,
The Dark Crystal
and the, er,
Other One
) What? You thought i was talking about 'Muppets, Treasure Island' or whatever it was called?
Subnote: While searching for that "Other One", i found
This Site
which i thought was a bit unique and awesome and just had to bring to your attention. I just hadda!
So it's a movie. Yum! "But what's it about?" i hear you ask, from your distant and charming lands...
So here's a quick synopsis that i found from the
Official Movie Site
which incidentally has nice trailers and other... stuff.
"MirrorMask is the story of Helena, a fifteen-year-old girl working for her family circus, who wishes -quite ironically- that she could run away from the circus and join real life. But such is not to be the case, as she finds herself on a strange journey into the Dark Lands, a fantastic landscape filled with giants, Monkeybirds and dangerous sphinxes. Helena searches for the Mirrormask, an object of enormous power that is her only hope of escaping the Dark Lands, waking the Queen of Light and returning home."
So it's a kind of Wizard of Oz, then? Oyess, my little fleshlings, but with Neil and Dave at the wheel, you just
know
it's gonna be a whole lot more than that. And if you don't know, then yer obviously haven't read Gaimans Sandman epic (Available from all ye good parchment and scroll shops. What? You still here? Go and get hold of them, you mad fool, and bow before His Eminence, the King of Dreams, Prince of Stories etc. and then come back having read them and with newly acquired wisdoms. Oh, and bring wine with you? Ta!)
Back? Good. So now you're slightly more cultured. Have a gander at some pretty stills from the film and go "Oooh" ever so slightly.
Right. That's that post outta the way. Next up, the return of pretty piccies! And now i'm off to bed. It calls me, y'know.
Sooo tireddd.... ZzZzZz
S.

7 comments :.
12.3.05 | Limbo! I'm in limbo!
For some reason, i'm unable to post comments on other peeps blogs.
I keep getting "Blog Not Found" type messages as soon as i do! Egad! The rotters!
This makes me doubt my own reality! (Not difficult to do)
And if you haven't yet seen my post below (About being an Evil Genius), please comment on that one instead. It's much more fun than this small one, and goes further to reinforcing my awesomeness, which shall surely receive Royal Seals of Approval and other sorts of official recognition any time now. Probably even get its own trademark, too...
love,
S.

5 comments :.
7.3.05 | How to Be An Evil Genius (On The Cheap)(kind of)
Today, The Saturnyne
was
going to tell yer all the ins and outs of how to start an adventurous career of Evil Geniusness.
He was gonna tell ya how to do those "Muhahahahaha!" laughs and make them last forever, using indian yogic breathing techniques. (Complete lie)
He was gonna tell you about posture, and how to stand there imperiously with hands on hips, not looking at all "odd", with a white pet cat, named "Mr Flay" wreathed around yer shoulders. And how to "retire" those henchmen who fall around laughing when you do this. Friends have since pointed out that it makes me look "like a raging queen". Tchah! Whadda
they
know? I shall be "retiring" them too, forthwith! See if i don't! Muhahahaha!
Yes, the Saturnyne was gonna explain how to get a "good" personal assistant called Igor (Evil Genius Mail Order. or at
http://www.buy-igor.com
and how to judiciously use the leccie cattle prod on him when he's not looking surly or miserable enough. Although to be honest, my latest model is trying even
my
patience. He just doesn't grumble enough when i tell him to go for more fresh brains at the local Accident and Emergency dept. Still, on the plus side, the pained look on his face at mealtimes is a joy to behold when i feed him his gruel and see him frantically trying to spear the nutritious bits before they wriggle away.
So. And finally, The Saturnyne was gonna detail how to attract the attention of The Authorities, so that they send in their best secret agents to thwart your malevolent machinations. Such agenta are invariably inept at not getting caught, even by Igor, so it's always nice to be able to explain to them how one intends to evolve super-intelligent sparrows and whatnot. Before cruelly (yet fairly and sportingly) putting said agents to death with the new laser-firing goldfish... or man-eating sparrows... i haven't decided yet.
And then we saw this: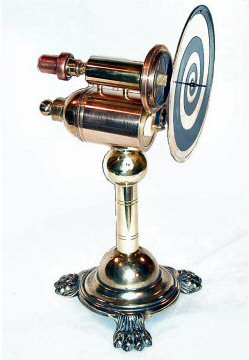 Hypnodisk!
And suddenly everything seemed so much simpler...
Gorgeous and awesome, isn't it?!?! Here's a view of the other side.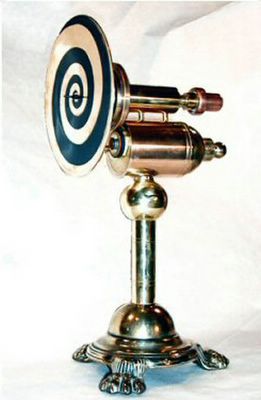 Whaddya know, it's just as awesome on this side!
Want! Now! Donations of large sums of money for purchase will be happilly accepted!
Imagine what fun one can have with door to door salespesons of all persuasions.
"Come in" i'll say. Cheerily. "Have a drink. Oh, don't mind the spinny thing, it's just to mezmorize you and put you under my powers of evil. Muhahahahaaaa!"
But that's not all! We also saw this:
Ballistae 1
And the other side...
Ballistae 2 (the
other
side)
Oooh! How much fun can a guy have with the neighbours? Especially when they're coming home at 3.a.m in the morning and shouting and singing like the chavscum white trash they undoubtedly are. How much fun?!?!
How much
! And they probably have children! Well someone does in this area, my god, the numbers of teenage vandals. surely an excuse for enforced contraception? Or am i thinking vivisection? Anyway, the point is: More fun! The Saturnyne Strikes Back. Muhahahaha!
And then... This!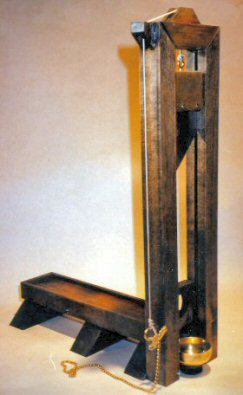 Guillotine! For the kitchen!
Hey! Isn't that a pic of its "other side" below? Oyesss.
Guillotine 2
It'll be perfect for the kitchen! And how! All those
uppity
carrots
will live in a state of nervousness forevermore. They shall fear me! Fear! Plus: how cool will Igor look as he solemnly, yet with an air of sulkiness (A contractual obligation amongst henchmen) slices the veg for meals. Occasionally cursing as he loses another finger in the salad bowl... wow, i sooo gotta make that another contractual obligation...
The really cool thing is that all these items can actually be bought from
This Site
.
So i say: Treat the Evil Genius in
your
life. But first, treat me. Especially as i know where you live. All of you.
Oh, and they even make siege engines! Awesome! I'll be able to lay low entire bunches of kids while they blithely vandalize stuff.
S.x
PS: Thanks to the more-than-Copacetic
Tam
for showing me how title tags work. Also for telling me about
wikipedia
, so i can look up words like "copacetic" with impugnity. Also words like impugnity. If i want. Ah love yew, Tam! More than bees! But not as much as exclamation marks!
PPS: Title tags = those little word balloons that pop up when you hover yer mouse icon over pictures and links an' stuff. Go try it on my pics up there. *points upwards*

10 comments :.
6.3.05 | Oops!
So much for my super-swift and
awesome
next post... i've bin a wee bit busy...
I'll be right back!
Tomorrow probably. Unless i happen to be verr verr drunk/hung over.
Ah, sweet booze!
Sloe Gin! (A rarity!)
Failing that, gin or vodka mixed with, er,
stuff
.
Or some expensive and dry red vin. Or some cheap and sweet red vin.
Although, i must confess... my days of heavy imbibing are behind me. So nowadays, it's one glass and i'm
anybody's
! Yaay!
So do ya
want
me, baby? Hh? Do ya? Do ya? Cool!- So just sign this form (Ignoring the bit about losing yer immortal soul; that's just for effect)...
here
... and
here
and i'm
all
yours...
Heheh!
S.x

2 comments :.