31.1.05 | World Of Pumpkin!- News for Pumpkins Everywhere (Headlines)
(Credits roll)
(Theme tune begins now
...
...
... er NOW!)
(Dadadada, dadada, dadada
Daaa-DA!)
Good evening! Welcome tooo-
Wooorld of Pumpkin! (News by for and about pumpkins everywhere!)
Tonight on World of Pumpkin we bring you the latest news about
pumpkins
the world over. But first,
these
headlines:
The Pumpkin has landed
News just coming in
: That pumpkins have reached Mars for the first time! The high-tech spaceship Pumpkin 1, piloted by Commander Squash Neilstrong and navigator and cup-of-tea maker Buzz Pumpkin, touched down earlier today around about tea-time (
Meaning Evening meal in local dialect
). And Commander Squash is reported to have made the first shuffle on the orange planet. His first words, which will be remembered for
all
time were: "One small step for pumpkins! And then another."
(Static)
"-llocks!"
(Static)
"Ey up- It's a bit dusty out 'ere, Buzz! An' i don't think much o' th' weather, neither! Better put us a cup o' tea on for when i get back in. Ah don't think i'll bi stayin' out long... unless yer fancy a game o' footy, like?"
More later...
Pumpkin Party Continues!
As the annual Pumpkin Halloween Party reaches it's 93rd day and still shows no sign of stopping, we have a special on-location pictorial report by Cucubita Gourd and ask "Just what is it that makes pumpkins such party animals, and wild for shennanigans?"
Below: Several cartloads of funseeking Pumpkins excitedly await their unloading into the party field
Below, a crowd surfer dives into the frenziedly dancing crowd as the headline act of this years Pumpkin Halloween Party, The Mashing Pumpkins continue into the 92nd day of their encore.
Also as government reports continue in the rise in binge drinking and it's associated violence, do we really want to see scenes like this:

vomming pumpkin in the Pumpkin Patch? (Answer, yes, obviously. It's traditional!)
Arts: The art world was rejoicing today, at the unveiling of the renowned artist, Van Pumpy's latest work "Da Sunflowers". Critics were heard to exclaim in wonder, "They're almost
orange
!"
Below: Van Pumpy, strolling around in his Patch yesterday, possibly having a crafty fag. Behind him: Some of his models. Probably.
Van Pumpy!
Fashion News: Is neon the new "orange"? Will neon replace the candle in the affections of fashion conscious socialites?
No. As if!
And that concludes World Of Pumpkin headlines today!
Competition up next! Yaay!
More
Pumpkin Stuff. Probably.

11 comments :.
29.1.05 | Bugger!
Don't ya just hate it when ye've got loads of blogging ya want to do, and then can't find the time?
Grr! And a bit more Grr!
I shall post asap!
Promise!
S.x

2 comments :.
19.1.05 | What Soul Are Yoouuu?
You Are a Visionary Soul

You are a curious person, always in a state of awareness.
Connected to all things spiritual, you are very connect to your soul.
You are wise and bright: able to reason and be reasonable.
Occasionally, you get quite depressed and have dark feelings.

You have great vision and can be very insightful.
In fact, you are often profound in a way that surprises yourself.
Visionary souls like you can be the best type of friend.
You are intuitive, understanding, sympathetic, and a good healer.

Souls you are most compatible with: Old Soul and Peacemaker Soul


It's all lies, of course. What i really got was "Ars Souled: "You are An Ars Soul." Not only is that the epitath they will put on yer tombstone... but they may also add; "Continuously Ars Soled on vodka at the midweek Pumpkin Disco's, too. AND a complete slacker! Your very existence upsets all the laws of physics. The only good thing to be said about you is that you have brought together both scientists and theologians in demanding you be punished for crimes against reality. Just be thankful we don't mention the onanism! Oops!... sorry...""
At least i think that's what it said...
Hmm... speaking of Pumpkins... Next up:
Grand Pumpkin Competition! Plus! Other Stuff! About Pumpkins! Yaay! Thrills For Everyone!

10 comments :.
16.1.05 | Grim Awakenings (Subtitle: We're Gonna Die! We're ALL Gonna Die!!! Bollocks! What a Pisser!)
The
...
Saturnyne
.................
Awakens
.............................
With A
Shudder!!!!
So. Tell your friends. Ask them to tell their friends, and their friend's friend's. Tell your family. Tell everyone you meet! And if you or they can think of something that we can all do to prevent this,
do
tell me.... I really like our little planet, and would hate to see it wasted. God!- It'll end up looking like Mars!
love
S.x
So. What's for breakfast? And who's up for Sunday morning biscuits and coffee and a bit o' pash!?!

12 comments :.
13.1.05 | Troubled Sleep

9 comments :.
9.1.05 | The Saturnyne Is Sleeping Awhile...
S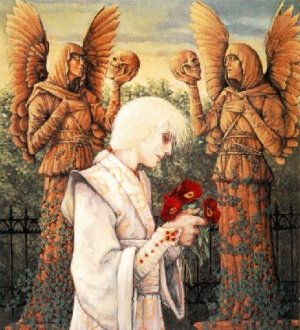 "Flowers gathered in the morning,
Afternoon they blossom on,
Still are withered by the evening:
You can be me when I'm gone."

16 comments :.
7.1.05 | Ye Views Of Ye Olde Harle Syke (As Shot By Ye Olde Saturnyne)
Harle Syke. My home. A Lancashire mill village-cum-suburb of the Township of Burnley. A fabulous community once. Pissy now. Symbolic of all that's going wrong with England Land. No-one looks out for each other anymore. The youth torments the old. But still there's sunlight to shine in the darker places. All too rare, perhaps. But there. The stacks you see in the pic below are all 150' high and were all once part of cotton mills and the like... there used to be nine or so in this area, so you can imagine the hive of activity this place once was. Not much cotton produced around here now...
I'm a Syker. I was born here. In this very house. I'll probably die here... just for completeness... a life mandala... although, i have
things to do
first...
Speaking of death-No mouthy blood today! Seem to be ok. But will pass on details if anything changes. Anyone wants gory doctor details please e-mail me or msn me for my privacies sake... thankee!
This first pic can no longer be replicated, as all this area is quite overgrown with super-duper trees today, the saprolings you see are now over 4 metres high now... and half the space rocket has pissed off... god knows where. Space i guess. Probably an alien landing pad all these years. Probably half o' 't Syke is an alien entity, planning domination of... of... well, i'm not sure what there is left to dominate around here... the local mini-market? The milk rounds? The chewing gum strewn pavement around the bus stops? The pension queue at the post office on Thursdays? The four pubs and/or off-license (always popular with the aliens, that)? Or mebbe the bowling green? Yeah, that's what it'll be- them aliens want to play bowls!
This is all true, by the way... i've seen the people on the next street, and
i swear
they were hatched from pods!
The Harle Syke Stacks and Church Spire
This next pic is a more detailed look at The Church. St James's Church of Loveliness And Being Nice To People. I once had a life-or-death struggle in this very churchyard! Only stopped when the Rev. Hallam remonstrated with my "Bitter Foe" and i for using his rhubarb as swords.
St. James Church (My home is about umpty seconds to the right. Less than umpty if you run!)
These pics were pulled out of the rat for countless people: Certainly one was
B
and another was
Stella
, and yet another was mr
Boldface
love to you all
S.x
WE seek her here, we seek her there. We seek the lovely Tam everywhere...

13 comments :.
6.1.05 | Band Fanwankery (as the prodigal Tam put's it). *grins*
"Oh look! That nice Mr Saturnyne is gonna talk about his favourite band again. Shall we move on to the next blog until he calms down/stops being boring?"
So
My call goes out to all U.K. and European visitors to this website (all 6 of you! Heh!)
American Music Club
are performing here in Europe this very month! Come and see Mark Eitzel sing about the utter desolation of fragmenting love, bereavement, alcoholism and pain, not to mention loathing. Come and see Mark have a nervous breakdown live on stage! Watch the most underrated and oddball guitarist of our times in his sidekick, Vudi. (The other guys are pretty fucking awesome, too!) Marvel!- that here is a singer who lives and breathes his songs, and who, will bear his wracked heart, and further, will practically destroy his voice for your pleasure! Oh, and the lyrics.... *swoon*
There was another band who had a comeback this year. The Pixies were good. A.M.C. are fucking better. And they released a brand new album to go with the comeback. I didn't see the Pixies doing
that
, did you?
Also, A.M.C. have made the most beautiful love song ever, in Western Sky... So there! I rest my case.
Here's the tour dates:
And if anyone's interested, I shall be hopefully attending the one in Manchester, sunday 30th. If anyone fancies going to that, let me know, and i'll meet yer there... i might even have a ticket spare for you, if i'm told early enough...
SHOWS
Mon, January 17
Netherlands, Amsterdam -
Paradiso
Wed, January 19
Netherlands, Rotterdam -
Rotown
Thurs, January 20
Paris - Café de la Danse
Fri, January 21
Belgium, Brussels -
AB Club
Sat, January 22
Belgium, Gent -
Handelsbeurs
Sun, January 23
London -
Islington Academy
Mon, January 24
Brighton -
Concorde2
with Trashcan Sinatras
Box Office: 0127 367 3311
on-line tickets
Tue, January 25
Cardiff -
Clwb Ifor Bach
box office: 029 2023 2199
Wed, January 26
Bristol -
Fiddlers
box office: 0117 987 3403
Fri, January 28
Ireland, Galway -
Roisin Dubh
box office: 00 353 9158 9202
Sat, January 29
Ireland, Dublin -
The Village
box office: 0818 719 300
Sun, January 30
Manchester -
Academy3
box office: 0161 832 1111
Mon, January 31
Liverpool -
Academy Rooms
box office: 0151 256 5555
Wed, February 2
Glasgow -
King Tuts
box office: 0870 169 0100
Thu, February 3
Sheffield -
Leadmill
box office: 0870 010 4555
Fri, February 4
Nottingham -
Rescue Rooms
box office: 0115 958 8484
Sat, February 5
Birmingham -
Academy
box office: 0870 771 2000
There's a live streaming audio and video for those with a little speed in their internet connections
here (Note, it requires Real Media Player to play. There's a free version somewhere on this site)
S.x
PS. Tam, where the effin' 'ell, are ya? = (

9 comments :.
4.1.05 | Um, i don't like to ask for advice, but...
So, lovely blog-person...
Ya wake up seven days in a row with oodles of yummy-tasting blood in yer mouth and no obvious reasons for said blood...
On the 8th day, there's none... or very little...
Would ya still book an appointment with the doctor on the 9th day?
I have felt very tired and run down recently, but am thinking this is due to my insomnia and a few other reasons, like anxiety...
Not sure what to do. Doctors or not doctors? Dentist perhaps? Wait and see?
I'm so indecisive about these things... i hate being a bother when there might be nothing wrong.
Sometimes i wish the whole world would just fuck off and let me sleep. These sleeping tablets are a waste of fucking time... doesn't matter how many i take, if sleep won't come, it won't...
Yours apathetically
S.

14 comments :.
1.1.05 | Spinning A Yarn (Alternative Re-mix)
When to make the cut?
Yes.
It's a ball of wool.
It's... symbolic! Honest! No really! And anyone who even remotely suggests that i am a dancing liar and/or am being too clever and obtuse for my own good, or even lazy, (even if it's completely true) i shall demand satisfaction of! Pistols At Dawn, all
that
jazz. (Note: The Saturnyne's rules of duelling: Pistol, the word herein/hereon/hereafter denotes the allowance allowable of any weapon up to the size of howitzers and other self-propelled artillery pieces)
!
Oh and i may, in a fit of pique, possibly delete anyone who even vaguely wishes me a "happy new year" in the comments. Worse, i may even reply with scathing and bitter sarcasm and ironic wit. Why stop now, just when i'm hating it?
It may be deduced that i didn't have a good start to the New Year. That would be most astute. Tchah! Night Life? I've had more fun sticking me hands in the plug socket. So let's move on, shall we? Admire my wool! Then admire my Pot Pourri below...
Or suffer the consequences!
Addendum Thing
While i might not have had a good New Year, it seems
Some people
had a most entertaining one. Great Picture, Andy. Scary as hell, but great.

6 comments :.
| The Spiders Garden
When Dave the Spider had his brief residency in my bedroom. I took great pleasure in making him feel as comfortable as possible whenever he came out of his little crack in the wall.
Such as providing him with a little pot-pourri garden to roam around in at night.
Oh i never saw him taking advantage of the thing, but i like to think of him sitting comfortably there, taking it all in. Mebbe smoking a little pipe and putting his little feet up. Inhaling those heady pot-pourri scents as he comfortably contemplates his next fly luncheon...
Traditionally, New Years onset is a time for remembering those we have lost, as much as for celebrating life and renewal. I shall be spending my day remembering several such people...
The Spiders Garden

3 comments :.