25.11.04 | Staircase Analogies (+The Saturnyne Get All Angular)
Nietzche said:
"If you gaze into The Abyss, then the Abyss will gaze also into you".
These photographs, are part of a much larger project that i have been working casually on for many years.
The idea for the project came about upon the discovery of a French Parisian phrase i discovered:
L'esprit D'escalier
.
I'm not sure if that's the correcr spelling. But at this time of night, i can't be arsed to go and check. Anyway, it means
The Spirit of the Staircase
and defines that precise moment when you've lost the argument, and stormed out of some (Parisian) apartment, and are standing on that(Parisian) staircase, suddenly thinking of all the things, those witty, cutting, scathing things that you would have liked to have remembered to have said
during
the aforementioned argument.
And now it's too late. You lost. Deal with it. Or don't.
AS i took the pictures, over several years, i began also to see a Yin and Yang within them, and started to imagine the stairs as a connection between Heaven and Hell:
You stand at the summit... and you stare down into The Abyss, into the terror below... you may be in your Heaven, but feel a chill emanating from those depths. You know a moment of fear...
You crouch in the depths, wretched, and gaze up into the beautiful light. The light offers redemption. You know you can never reach it. And your agony is increased manifold by that hopeless hope...
I The Saturnyne, traverse the path between these points. Without ever reaching or touching either of them. That is my blessing. That is my curse.
L'esprit d'Escalier1
L'esprit d'Escalier1 (At last i find a use for the "Glowing Edges" filter in Photoshop)
L'esprit d'Escalier2 Oh, the lines! HElp!- I'm falliiiiii-
L'esprit d'Escalier3(More angles than you can shake a pointy stick at!)
These pics are for
Darkchild
And
Princess Potty Mouth
who requested "Nothing". I hope my interpretation fulfills that request... more pictures of other requests will follow as i pull the scrumpled bits of paper out of the rat... (i couldn't find a hat, so i got a "volunteer").
PS: i also suffer from vertigo...

18 comments :.
22.11.04 | The Saturnyne Invites You -YES YOU!- To Do Unspeakable Things To Penguins! (What Larks!)
Now
this
is fan-friggin'-tastic! And soooo seasonal.
It's like a whole new kinda Winter Sport!!! Abuse penguins in seasonal merriment!!! Willing
sub
missive penguins!!! God how fucking perverted is
that
? Really fucking perverted in my books! An' thass why i love it so. My, i'm
SPENT
from just
thinking
about it!
Oh, the link.
Do ya want it? Do ya
wannnnt
ittt? I can tell that yer gaggin' fer it, now i've hyped it up so much!
Ok, here it is:
Abuse The Penguins!
Oh, yeah, did i mention that there's a yeti involved?
PLUS... more goodness below
Mr Breakfast
. The Superhero of breakfasts everywhere.
And finally. A Series Of Unfortunate Events... you have the option of
not
clicking the eye and claiming your miserable reward... don't say you weren't warned.... Bwahahahahaha!

5 comments :.
20.11.04 | Listen, The Snow Is Falling
"Is it snowing?"says one elderly Parental Unit, peering short-sightedly out of the window.
"Nah", we all say.
Then we look again.
Blameh! It is!
And i can't resist, but have to hurtle myself outside into a flurry of snowflakes. Oh gorgeous pure whiteness; kissing my face with icy lips! What a thrill!
"Wait!- Don't you want a scarf?" but i laugh with wild joy as the elders voice fades bemusedly into the distance and the silence of the first herald of Winter.
Later, i stand with gleeful arms outstretched as a million icy meteors explode in slo-mo around me.
Alas, that the Earth is yet warm, and so these meteors fail to take hold and clothe the land sufficiently with silence.
But who
can
resist, with child-like heart, the first snows of Winter? I for one, cannot. And walking home, i sing the one good song that Yoko Ono ever sang. Named like the title of this post.
Listen, The Snow Is Falling
Listen the snow is falling over town
Listen the snow is falling everywhere
Between Empire State Building
And between Trafalgar Square
Listen the snow is falling over town
Listen the snow is falling over town
Listen the snow is falling everywhere
Between your bed and mine
Between your head and my mind
Listen the snow is falling over town
Between Tokyo and Paris
Between London and Dallas
Between your God and mine
Listen the snow is falling everywhere
Snow dream
Snow fall
Snow fly
Listen
Listen.
The track can be found
here
currently; On The Galaxie 500 website (One of my favourite bands) Galaxie 500 also do an even better cover of it as well. Unfortunately, it seems that the site has run outta download bandwidth for the next several days. What a pisser! Pity.
Going back to Yoko. AS well as being responsible for this one beautiful piece of music she is also responsible for
THIS
,
which is without doubt the most reprehensible piece of fucking awful piss i have ever had the misfortune to listen to. Imagine the poetry of Nancy Millstone Jennings (Prizes for guessing
who
that is) and then just add to music. This album is so fucking bad, i feel like retching uncontrollably even just thinking about it.
Put it another way, you know i love you, right? Well, i'd rather
kill
you than have to listen to this ever again. You want an example? Ok, click on the sample from that first track (On the link. Halfway down the page. Choose yer music player of choice. All that shit. Have you done it yet?) Lyrics:
"You ungrateful bitch
I'm gonna throw you in a ditch."
Some people would kill for good lyrics in a song. In this case, i think several people WERE killed in the attempt. Just because their brains couldn't tolerate living in the same world as this execrable self-indulgent hippo shite. (um, "hippo shite?")
And then:
"He grabbed me, he jabbed me, he stabbed me".
What is this!?!? What?!?!
Has she been subtly impressed by "
Stop The Pigeon
" that legendary vessel of cartoon Dastardly and Muttley-ness?
After that of course, the tracks become unremittingly worse and worse.
Recently it was reported that Mark Chapman was refused parole. Personally, i think this is a heinous crime. Surely he should be allowed the chance to finish off what he started. Y'know. One final atonment. Imean, come
on
, she's done her bit for music, we can't allow her recent works to erode all that good (yet brief) moment of beauty now, can we?
... Oh, it's a cruel world...
(PS: Any other nominees for awful awful records?)

7 comments :.
17.11.04 | ...Meanwhile, On The Other Side Of The Floorboards...(The Spiders Stratagem Re-mix)
"Ahreet, Lads!"
"Bloody 'ell! It's Dave!"
"Ahrreet Our Dave! Wheer the buggerin' 'ell 'ave you bin? We haven't seen yer for bloody months"
"Bollocks! Ah got tossed out onter 't street, didn't I?"
"Bollocks! How'd that 'appen?"
"Aye, ye' gowan tell us abaht it, arn't'cha?"
"Well
get us a pint o' fly-juice, an' i'll tell yer all abaht it..."
Several pints o' fly juice later...
"... so ah'd bin wandering occasionally inter 't twofoot territory, cos o' rich pickings in their caves. Aye, i know what you under-dwellers are thinkin' "He must be barmy, to be strayin' inter dangerous territory like that. Aye an' i remember all th' stories our mams'd tell us abaht 'ow dangerous them giants are.

"But i tell yer, they're bloody blind! (Or are most o' the time) On account of their eyes being so far off the ground".

"Ye've seen their eyes?! Bugger! Bollocks! Few live to tell the tale of staring into a two-foots eyes. What'd they look like?"

"As big as me or you, that's how big. They were so big i could see me entire reflection in ther blackness. Aye!"
"Bollocky-buggery! You must've bin close!"
"Aye i was. I. Was. Face. To. Face. Wi' it... but ahm gettin' ahead o' meself...

"As i was saying... i was settling in nicely. Life was easy. The pickings were more rich and succulent than i could ever manage in a lifetime. If it weren't the twofoots dropped morsels i were feastin' off, it were the other insects that were also drawn to such feasts. Life were good.

"An' then i got careless didn't i? Got a bit adventurous, an' thought i'd check out some of the upper caverns for somewhere to lair up for ther Winter. So ah was wandering across the middle o' floor like a fool, when what should 'appen, but a two-foot walks in. Just my luck, he should spot me..."

"Fooook! Worrappened?"
"Well we just stood there lookin' at each other, like. Ahm ashamed to say, but ah just froze. Well, ah were terrified. What wi' th' noise an' all..."
"What noise? Was it a young female, i hear they make this high pitched screaming, if they spot us. Like it's some kind of alarm thing. I hear ye've gotta move pretty sharpish after that, or yer stamped on, good an' proper!"
"Aye i reckon it musta been one o' them, like yer say. Anyway, after a bit, it stopped shrieking, an' ran off. I shoulda made me exit right then, but me head were still ringing from 't awful wailing.

"Moments later, it came back, i knew from the way it moved towards me, that the game was up. It was either gonna kill me, or worse, catch me! So i ran. I ran like fook! It chased me all around that cave, this way an' that, makin' a dreadful hollerin' racket, breaking things, until i finally found a hole to escape into. It was then i literally came face to face wi' it...

"It crouched down onto it's feelers an' peered in at me. I tell you i've never bin so scared. It had hairs on it's 'ead as thick as me legs. Not just a few, but thousands 'an thousands. It had breath like a dead maggot. An' other smells equally disgustng, just seemed to ooze off it. An' all over it's skin, thousands an' thousands of tiny tiny creatures crawled an' crawled, eating the dead flesh that flaked away from it in a never-ending stream. It didn't even pay a bit of attention to them, neither. Ah tell yer, ah neerly vommed me last fly!"
"Coo! Lumme!"
"Bollocks you say! Then wot 'appened?"
"Well it just pissed off, didn' it? Dunno why. but it jus' lost interest. Me i nearly shat mesel'. I was soo terrified, i daren't hardly move from me hidey-hole for weeks. I'd see it from time to time when i peeked out. Once it even waved it's feeler at me. It almost seemed friendly.

"After a while, i thought "Sod this for a lark, i'm outta here. I was gettin' bloody hungry, yer know. So one mornin' i plotted me escape route while it was asleep, an' scarpered.

"Everything was goin' fine. I'd got outta the twofoots sleeping cavern, an' was just startin' ter climb dahn to the lower caverns. Then this other twofoot saw me. Before yer knew it, it'd grabbed me in it's feelers, an' dumped me out onto the outside. It was pissin' dahn aht there, too.

"Took me months to get back inside to the under-caves. But eventually i did, today. An' that's how i'm standing 'ere before yer. Waitin' fer yer ta get another round o' fly-juice in..."

"Oh, reyt..."
"An' gerrem to put a fookin' umbrella in it this time! th' fookin' cheapskates."
And there we leave our denizens of the underworld, dear reader. But who would've thought they had such
heavy accents
? Not me, that's for sure...

9 comments :.
16.11.04 | The Spiders Stratagem
So there i was, minding my own business, pottering around the house, trying to keep it tidy and such. When walking into my bedroom, i was confronted by the hugest spider i have ever seen (In England). It must've been all of three feet* across and with fangs the size of paring knives**.
We stood (Or crouched in the spiders case) eyeing each other up with alarm. Hardly daring even to breathe.
"Bugger", i thought. "How'm i gonna get
that
out?"
(No, of course it never crossed my mind to attempt to slay it. This is a spidder friendly household, i'll have you know.)
So i retreated to the kitchen in search of a glass large enough to catch it in. Although with the size of that brute i was almost certainly gonna need a bucket at least.***
After a swift search i returned with the appropriate catching device, plus a full suit of kevlar body armour in case things went wrong, plus stun grenades, rapier (for duelling with the fangs), and pepper spray, in case it tried to mug me. Time being of the essence i had no time to find the harpoon gun from the garden shed...
There then ensued a frantic struggle all around the bedroom. Me, intent on subduing the fearsome brute, and he (I say "he" from complete lack of spiddery knowledge) intent on evading me with equal determination. Oh, the shennanigans! It was like one of those 3 Musketeers films starring Michael Yorke with Roy Kinnear as his trusty sidekick (C'mon, you've surely seen them?! Don't tell me you were born in the eighties?!?)
Anyway, the spidder won. Despite my fancy foot-trickery, the likes of which would have impressed ballerinas the world over with it's sheer ineptness. Despite my heavy artillery. Despite my constant commands of "Freeze Mothafucka!" in my best NYPD Blue accent. Yes, despite all this, the spidder escaped into a hole between a chest of fitted drawers and the wall. Very thoughtfully provided by builders of yesteryear. Bah!
And there he stayed. In fact i rather think i must have frightened him enormously, because for weeks afterwards, he refused to venture more than a few inches from his haven.
I began to feel sorry for Dave. Yes, i've christened him Dave. It's a good name. And in time i adopted him as a spider refugee of sorts. And, in time, he began to feel more venturesome and take little walks around the room. Sometimes, when sitting at my computer, i would catch sight of him peering out at me from his hideyhole home. I would even wave.
It didn't last however, for one day, he strayed too far, and into the path of my mother, who immediately captured and evicted him out into the cold streets, with far more efficiency than i ever could muster. She wasn't even wearing body armour!
*Three inches
** Very very very small paring knives.
*** Lies, all lies. Fabricated to make me look heroic in the eyes of damsels everywhere.
Which brings me to the pics below. One of the first requests i had for photos, was from
Tam
, via IMS, who desired for pics of an insect. Yeah, sure, at this time of year, the only way i was gonna come up with something like that was to go on holiday to Bug City. So i... improvised....
This one's for
you
Tam!
Spider In The Bath! Heeelp!

Oh, It's only Ophelia

Hey, Ophelia, looking gooood.
Sooo cute!

10 comments :.
11.11.04 | Oh Look! More Fucking Clouds, Everyone.
Bleaching The Bastard Colours From An Autumn Sunset
This is The View from The Saturnyne's bedroom window. It looks like this every day. All the clouds in my village are laughingly paid a pittance to hover in exactly the same place all year round. And the money we save from these immigrant sweatshop type clouds (Probably from the Far East, hooking a ride on an overcrowded boat full of other weathers from distant lands), goes towards paying off the Sun to also hover around the horizon looking pretty. And the pub.
S.

17 comments :.
9.11.04 | Whaddya Want Me To Shoot?
Jumping on the bandwagon of a million other peoples once again...
I, The Saturnyne, have the cameras.
You, the Not-The Saturnyne, can have the ideas.
So, my darlings, what three things would ya like to see a photo of? Taken with my cunning hand and eye, of course. No request too tawdry or outrageous! Everything will be considered! Step right up and make your bid...
Let's see where it takes us.
S.

16 comments :.
7.11.04 | Flux and Mutability: The Saturnyne Remembers Mr Shelley To Your Affections; And Casts Light On The Praiseworthy Mr Sylvian
...and so we turn away from the dashed hopes of America and the World, the loss of that nice Mr Peel who showed us so much music,
Mr Wood
, who made being a child in the U.K. that little bit more magical, and
Fred Dibnah
, Steeplejack of renown, who also popped his clogs this week... and we await with sorrow, the imminent news of Mr Arafats passing and inevitable disrespectful treatment by Israel of his last wishes. (And c'mon Israel, time to give that land back, ye'll have no more excuses once he's gone.)
Death and loss, are part of life. We shoulder our burdens and struggle on. Time heals many wounds as our memories of loved ones grow more distant. And at times the memory of what we have lost returns unbidden like a blow to the chest and we weep. Yet this will happen less frequently as time hurries us on...
And so The Saturnyne today says "Rejoice! For are we not yet still alive? Do we not still breathe? If we can grieve, then we can also laugh with joy at the pure selflessness of being alive! In a world that lives too! See that tree reaching for the sky? Feel that lively breeze caressing your face? Marvel at a spiders web! Or a childs innocent laughter! Or a bird in flight! Breathe in! Grin! For The Saturnyne loves you unconditionally, and is grinning also.
The Sun burns yet brightly, and the moon and stars tread their ancient paths.
And now we have hope. For we have never truly lost it.
And with that in mind I give you two poems by the revered Mr Percy Bysshe Shelley. both called Mutability. Both beautiful. It's the second one that we shall embrace most fully today, though...
Mutability
The flower that smiles to-day
To-morrow dies;
All that we wish to stay
Tempts and then flies.
What is this world's delight?
Lightning that mocks the night,
Brief even as bright.

Virtue, how frail it is!
Friendship how rare!
Love, how it sells poor bliss
For proud despair!
But we, though soon they fall,
Survive their joy, and all
Which ours we call.

Whilst skies are blue and bright,
Whilst flowers are gay,
Whilst eyes that change ere night
Make glad the day;
Whilst yet the calm hours creep,
Dream thou - and from thy sleep
Then wake to weep.

Mutability (no. 2)


We are as clouds that veil the midnight moon;
How restlessly they speed, and gleam, and quiver,
Streaking the darkness radiantly! -yet soon
Night closes round, and they are lost for ever:

Or like forgotten lyres, whose dissonant strings
Give various response to each varying blast,
To whose frail frame no second motion brings
One mood or modulation like the last.

We rest.—A dream has power to poison sleep;
We rise.—One wandering thought pollutes the day;
We feel, conceive or reason, laugh or weep;
Embrace fond woe, or cast our cares away:

It is the same!—For, be it joy or sorrow,
The path of its departure still is free:
Man's yesterday may ne'er be like his morrow;
Nought may endure but Mutablilty.
And i think i shall dedicate this second one to
Darkchild
over in The Netherlands, in the hope that she finds something good for herself in it's words. And if any of you feel like dropping by her place, be sure to say "Hi" and tell her what a fabulous person she is.
If at all possible you should also find a copy of
Flux And Mutability
by the enigmatic ex-lead singer of Japan,
David Sylvian
to increase your pleasure of that second poem. Side two of this moody instrumental album goes so perfectly with it, that you may find yourself weeping tears of rapture. Sadness and joy all jumbled together in your head in a true moment of profoundness. Or something like that. From talking to some of you and reading others blogs and profiles, i'm convinced that at least half a dozen of you will love it.
The rest of you i will have to prod with pointy sticks until you do. Ha-yeh! Looking forward to that:
*prod prod*
"Get a move on- you there at the back! The World won't wait forever, you know!"
Hugs all round.
Cake too, probably.
S.
I know, i know, Janey. There needs to be more bollocks in this post. But i was feeling all lovey today... so i just had tae post this instead.
S.x

4 comments :.
5.11.04 | A Humble and Hopefully Humorous Post To Cheer Up 50% Of America (And 98% of the apparently insignificant Rest-of-the-Planet)
Friends, in these troubled times, as we stand and gape in amazement at the re-election of the New Emperor, i've scoured the Web for things to cheer us all up.
PS: if ya did vote for Emperor George, it would be unkind of me not to say "Turn away! Turn-a-fuckin'-wayyyy!!! Nowww!!! Avert thine eyes, lest thou be repunged by the Unholy Blasphemies!!!"
PPS: OR ya could stay and whine and give me someone to take the piss out of. Sure i'd feel bad about that. It'd be like drowning helpless kittens. But, as Father George would say, "It's my divine duty. God told me to".
But first things first: I know it's late, but here's
Cactus At Halloween
. (I think this is episode four in the jolly swearing Cactus series).
Also, i know it's a bit early for Easter, but fuck it!- Here's some
egg frenzy!
(Bollocks! This link might be down at the moment. but it
was
brilliant, i assure you).
More um,
"egg frenzy!"
This time from
Weebl and Bob
. And it's got
another new episode
right after! Surely they must be getting onto their hundredth episode by now?
And now: Some
Daliesque
political
humour
. Honest.
Bush: Weebl and Bob
comment
!!
Bah! Well i was gonna post a nice pic of Mr Kerry sending The Emperor some Inauguration Pretzels, but apparently Blogbot doesn't like anything that's not a jpeg. And try as i might, this arsy image editing prog that isn't made by Adobe just won't convert it properly. Bastard thing. So here' a pic of The Emperor by that nice cartoonist, Mr Bell over at
The Guardian
Website.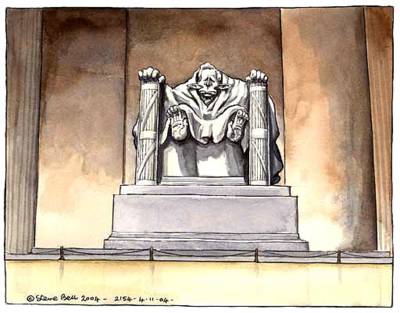 New Emperor Monument! To be constructed in Washington.
Love and big mwah's to ya all.
S.
PS: It is possible one of my near futureposts may be somewhat more political in it's wordiness. I haven't decided yet. But if politics ain't your bag, i'll let ya know in good time so ya can ignore it. Heaven knows, i'd hate to be boring...
Addendum To The PS
: NAh, yer safe for now, the delectable
Janey
asked me to write something, but i wasn't sure if she meant political or bollocks. So i asked her for clarification.
"Bollocks, please", she replied.
Obviously a girl who knows my strengths. And weaknesss. Phew! More bollocks it is, then...

8 comments :.